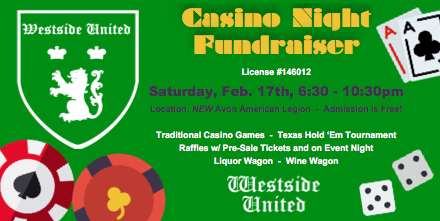 Our fund-raising event for this year is changing. Instead of a dinner-auction that we have done in the past, we will be holding a Casino Night (License #146012). This year's event will be on Saturday, February 17 at the NEW Avon American Legion.
As we have done from the start of this fund-raising event, the purpose of this evening is to generate funds needed to supply our honorary scholarships (In Memory of Bre Sparks and Ryan Spiegel, and, honoring Eric Green). For more information on these Westside United members, please click here.
Some details for the Casino Night:
NO admission charge!!

Traditional casino games—Blackjack, Craps, Big Card Poker

Texas Hold 'Em Tournament

2 large raffle drawings (with pre-sale tickets) and a few raffles the night of the Event

The popular Liquor Wagon will be back! Looking at adding a Wine Wagon as well!!
If you would like to donate to the Casino Night, or have a connection to someone that would be able to help us, (restaurant gift cards, big retailer gift cards, travel vouchers, etc) please let us know by contacting one of the committee members listed below.
If you would like to volunteer at Casino Night: We need people to run the games that night. Sign up here : Sign me up Here Helping out here will count towards your Volunteer Commitment!
We'll need everyone's help to make this night a success! Thank you in advance for lending a hand, helping with contacts, and promoting to your teams, friends, and families. Please do not hesitate to reach out to one of us with any information or questions.
Thank you!
WSU Casino Night Committee
P..J. Orlando
pj_orlando@yahoo.com
Becca Dawson
Beccalynn1974@gmail.com
Gabrielle Owens
gowens@indy.rr.com
Carly Stevens
carlych@yahoo.com
Jessica Stephenson
jbryant78@yahoo.com